Banking institutions are tasked with the challenge in finding a company that manufacturers the strongest bank coin deposit bags capable of preventing theft and streamlining internal and external handling processes. There are a number of criteria that the best bank coin deposit bags must meet in order to be favored by big banking and major couriers from around the country. 
This article will cover all the major points critical to the qualities of a top coin security bag for deposit, shipping, and a plethora of other purposes. Get to know the CoinLOK bag by CONTROLTEK–the world's first (and strongest) coin bag. 
Coin Bank Bags with Exceptionally Strong Construction
If inferior, weak coin bags are used, bags can rip in transit or tear when handled internally. Additionally, they are easier to tamper with and can really sting one's loss prevention, as well as cause institutes to lose face with their customers.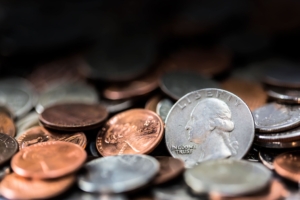 Meeting the VPC (Vault Process Certification) standards for performance and security, the CoinLOK bag is made from construction materials that are virtually tear proof making this reusable bag a top favorite for big banks and courier companies located all over the country. The CoinLOK tamper evident bag boasts a tamper-resistant closure with a powerful adhesive adding to the product's security while in transit. These coin bags also come with a reinforced die-cut handle fortified with a triple-ply film that can withstand 100 pounds of pressure in a stretch test. 
Bank Coin Bags with Superior Tracking Capabilities
The strength of bank coin deposit bank bags are not only measured on the durability of their construction materials, but also on their tracking capabilities. CoinLOK tamper evident bags use high visibility Fed-compliance barcodes for easy scanning, whether done in an automated process, or manually by a hand-held scanner. They also feature large serial numbers that can be distinguished for tracking purposes when captured on CCTV. In addition, the CoinLOK bank bags feature fed-required labeling and writing areas that can be used by couriers, internal teams and by logistics experts to ensure flawless transit and tracking. 
Investing in High-Quality Bank Coin Deposit Bags is Critical
In June of 2020, the Federal Reserve reported that COVID-19 had disrupted normal circulation patterns for coins, and revealed there is a shortage. Citizens have been asked to buy goods using their excess coins. Experts predict that we will see a surge in coin circulation, and banks of all sizes need to be prepared.  
Here's the bottom line: banks need to be prepared to handle what will likely be a surge in coin circulation traffic, and this means using the best bank coin bags coming off a coin shortage is critical to protecting their customer's money, keeping operational costs down, and staying agile and streamlined in the handling, transit and tracking processes.
Bank Coin Bags are Critical Banking Supplies
Amidst the forecast shared by the Federal Reserve, many institutes are wondering if now is the time to order bank coin bags, especially since the Fed advised processing businesses, CIT messengers and banks to only invest in what they needed to replenish coin stores.  
However, supply and demand factors into this sector as it does anywhere else: when there is a downtick in supply, a recovery almost always sees spikes and rapid surges in demand, and once the coin circulation climbs back up, many organizations will likely be unprepared for the volume and will reach out to banking supplies companies to order bank coin bags to replenish their dwindling supply. That said, bank coin bags remain critical components to the core of banking supplies, and savvy banks recognize the importance of being prepared and equipped to keep pace with the pace of currency circulation. Furthermore, banks, CIT companies and credit unions need to remain vigilant in safeguarding their identity and role as a trusted source to acquire coin and cash, and this means cash security and the bank coin bags that safeguard currency need to be high priority focal points within these businesses.
Bank Coin Bags and Brand Protection
Another component to the strongest bank coin deposit bags is their ability to play a role into brand protection. As the economy is slowly reopening with ongoing daily COVID-19 updates, banks need to be prepared to meet the demands of their customers otherwise they risk compromising their reputation, and giving unreliable service that drives customers to a top competitor. When banks invest in tamper evident coin bags like CoinLOK, they are automatically increasing tighter security, enabling a speedier and smoother internal handling process, and improving the quality of transit and logistics that ultimately give customers the ultimate experience is secure, reliable banking.
Call CONTROLTEK Today and Learn About CoinLOK Bank Coin Bags
As the economy begins opening, and a predicted source of coins are expected to flood circulation, banks, credit unions and CIT companies need the strongest bank coin bags on the market that offer added features that enable tracking and transit, while offering the latest in tamper-evident technology. Call CONTROLTEK today and learn how our CoinLOK bank coin bags can protect your brand, thrill your customers, and cut internal costs during these turbulent times.