This article originally appeared in Loss Prevention Magazine.
Retailers are living in a time of speed, efficiency, and pressure to secure assets while exceeding customers' expectations. If you add in the evolving challenges presented by COVID-19 and the demand for contactless and e-commerce shopping experiences, it is no wonder why many retailers are turning to RFID solutions to help automate their inventory and business operations while creating a more seamless customer experience.
Retailers with a limited budget may be hesitant to implement RFID because they view it as costly to integrate or having a long return on investment. The rapid advancement of technology, along with a reliable solutions provider, has improved RFID systems making them more affordable, scalable, and simpler to implement, allowing retailers to generate a quick return on investment.
RFID Solutions Help Retailers Gain Insight into Inventory and Enhance Customer Experience
RFID technology has endless potential to help retailers combat their ever-changing environments and gain access to real-time data for better insight and decision making. Here is a breakdown of some of the many benefits of implementing an RFID solution.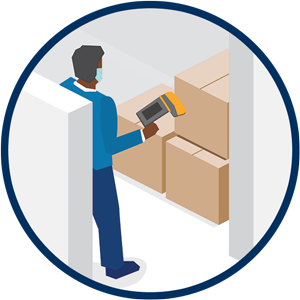 Better Logistics & Supply Chain Management
RFID technology enhances omnichannel fulfillment by automatically tracking assets throughout the supply chain journey, from manufacturing through distribution to warehouse to the sales floor. This enhanced visibility and control of the supply chain process reduces the need for human interaction, increasing efficiency while reducing human error.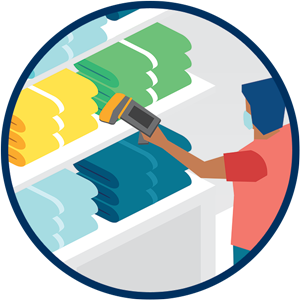 Automated Inventory and Stock Counting
Managing inventory no longer needs to be a manual process. Compared to the more familiar barcode inventory system, RFID allows retailers to scan hundreds of tags at once without them having to be visible. Not only does this speed up and streamline the process, but it also complements pre-existing inventory procedures with little to no confusion for store associates. Simple and regular counts enable retailers to have accurate stock information more frequently and allows them to take full control of their inventory.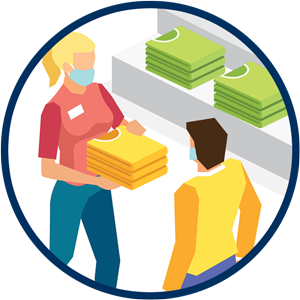 Real-Time Stock Availability and Instant Item Location
The pandemic has accelerated customer behavior and expectations for omnichannel shopping experiences. With BOPIS (Buy Online and Pickup In Store), curbside delivery and same and next day delivery, it is critical to have accurate stock quantities for customers who both shop online and in stores.  RFID technology provides a 99% accurate overview of a retailer's assets and the exact location of items. Real-time visibility into stock levels and location minimizes out-of-stock situations and simplifies merchandise retrieval, resulting in increased sales and enhanced customer satisfaction.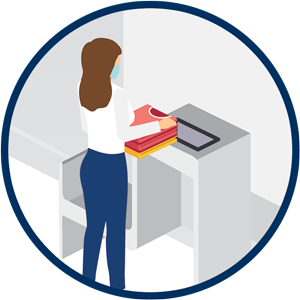 Advanced Self-Checkout
As customers look for efficient and contactless shopping experiences, retailers can truly provide a contactless method of checkout with RFID. Friction during the checkout process comes from the time it takes for store associates to scan merchandise. With RFID technology, items are instantaneously checked out once placed on the self-checkout counter, eliminating the need to scan items. This reduces the time customers must wait in the checkout queue and provides them with an efficient, seamless, and truly contactless experience.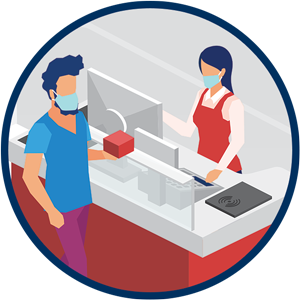 Point of Sale
RFID can also be integrated with POS systems, allowing inventory to be displayed in real time. Store associates can see in stock items at checkout and use that gathered data to track the sales patterns of specific items, allowing you to make more efficient restocking decisions. RFID can also help streamline the return process and combat growing return problems. Rather than having store associates manually log returns, items can be scanned quickly, saving the time it takes to get them processed and back on store shelves. Also, RFID tags conveniently track the history of an item, giving retailers visibility into whether an item was purchased and at what price, helping retailers combat fraudulent returns.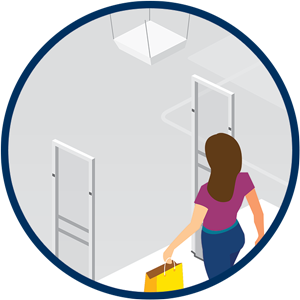 RFID as EAS
A retail store's security system is one of the most effective tools in fighting shrink and deterring theft. The addition of RFID technology makes that system a futureproof EAS solution. RFID tags and systems can act in the same role as traditional EAS tags and systems while also having the ability to store and communicate incredibly useful information for retailers. From an anti-theft standpoint, if an asset with an RFID tag leaves the store without being paid for, not only will the tag trigger the alarm, but employees can also see which exact product left the store, making it easier for them to ensure all the missing items are recovered, as well as having the ability to replenish the item to not lose a future sale.
Discover the Best RFID Solution For You With CONTROLTEK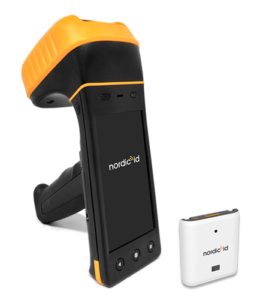 When evaluating an RFID solution, it is essential to choose a solution that is a match for your short- and long-term goals to ensure the best return on investment. For the past 45 years CONTROLTEK has partnered with many organizations including banks, retailers, government institutions, armored couriers, and logistics companies to understand their unique challenges and implement technology to help solve their problem. When it comes to RFID solutions, CONTROLTEK provides retailers regardless of their size or budget, access to the highest quality hardware, software, consumables, and seamless systems deployment.
High Performance Hardware
We understand the demands of a retail environment and the importance of hardware that will stand up to the test. In partnership with Nordic ID, we offer sustainable, long-lasting solutions designed for comfort and ease of use day in and day out.
Introducing the newest and one of the lightest, rugged designed handheld RFID readers on the market, the Nordic ID HH85, is made to perform in the most challenging conditions. It is the only handheld reader on the market that has NFC, RFID, barcode, and an integrated camera. It is built with an easy to hold ergonomic pistol grip, a battery life of up to 18 hours of continuous operation, Android 9 software, and one of the largest displays in the industry.
Offering the Nordic ID EXA21, the world's smallest RFID reader, a wearable device that is compatible with Android, iOS or PC. Its lightweight and compact design makes it the ideal portable RFID reader for easy and comfortable on-the-go data reading.
Smart Software Solutions
We offer highly intuitive software solutions to enable complete visibility into your operations. We understand no two retailers are the same, so our software solutions have infinite configurability to match your operations, your complex workflow, and your requirements. Our solutions are easy to deploy and integrate seamlessly into your existing infrastructure. The power of RFID technology allows you to automate asset management, business processes and collect and consolidate information so you can quickly transform it into actionable business intelligence.
Versatile Labels and Tags
Regardless of the type of assets you need to protect and track, we have RFID tags and labels to match. From freezers, to electronics to elegant apparel and cosmetic displays, CONTROLTEK's line of RFID tags and labels help protect a variety of products in flexible and unobtrusive ways. We offer a variety of shapes, sizes, specialty materials, adhesives, and inlays as well as customizable options.
First Time Right Deployment
At CONTROLTEK, we want to make it easier for your LP team to get the technology you need, help you get the ROI you expect, and alleviate the most common pain points in the process. From start to finish, we focus on your business goals and budget so you can protect your profitability. Our team of technology experts work with you to find the right RFID solution for your retail store for maximum results in your environment.