It is abundantly clear to retail moguls and senior management teams that RFID solutions are used throughout the industry to increase efficiency over antiquated barcode technology through its capability to read multiple tags at once. After all, tags store significantly more information than a barcode, and savvy businesses have been quick to incorporate scanners and wireless technology into their process with the ability to identify and capture data, instantly.
One of the many benefits of RFID technology that often goes unnoticed, especially by those new to the space of retail logistics, security and management is its ability to significantly increase customer experience and therefore play a pivotal role into a brand's ability to hit their revenue goals and increase their customer base.
This article is intended to help new professionals in the retail space understand that RFID technology goes beyond improving a retail brand's security, inventory management and streamline internal processes–it is intended to help brands learn how RFID solutions improve the customer experience through noticeable differences in service enhancements.
RFID Technology Enables Greater Product Availability
Product availability goes hand-in-hand with creating a positive customer experience. After all, if products are not available (especially during high-demand seasonality) buyers will find another outlet for getting their desired product. RFID technology helps to ensure high product availability helping brands maintain their retail sales. Out-of-stock and low availability is a challenge in the world of retail sales, as this can cause a drop in sales and garner an insufficient replenishment process while also having inaccuracies in the stock. In fact, RFID practically eliminates this latter problem as reports indicate that RFID enables stock accuracy at 99 percent compared to the standard range of 60-80 percent.
Additionally, RFID technology provides the best basis for running a reliable replenishment process, as real-time inventory and item-level visibility is achieved from an accurate stock count reaching 99 percent.
RFID increases product availability by making regular cycle counts possible with accurate stock reads. It also creates a view from an item-level standpoint of stock between the sales floor and backroom. Replenishment alerts are also issued in real-time fashion letting brands know what sizes, colors and types are running low while showing their demand.
RFID Solutions Allow for Store Employees to Spend More Time with Customers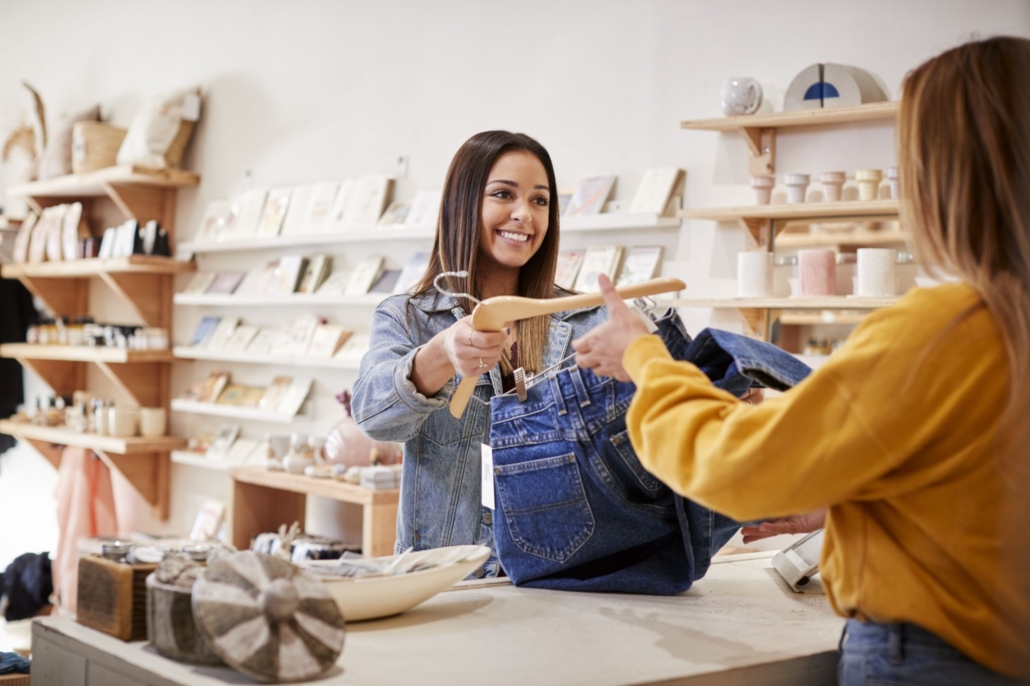 People buy from people they like, and when employees are stuck in the backroom taking inventory, the brand is missing a critical opportunity for the faces of their business to make personal connections with customers. With the ability to get more data, scan multiple items, and get high-level views through every process of the inventory chain, hundreds of hours are saved annually thus allowing employees to give that human touch that is crucial for the customer experience.
Omnichannel Services are Made Possible with RFID
Customers love to take care of all their needs under the same roof, and with a solid RFID solution, retailers are able to offer omnichannel services to their clients. For example, RFID lets store employees know the types of items that are unavailable, nearing unavailability, and it grants insights for placing orders. If a customer needs to order 5 men's suits all in different sizes, and only two of the needed sizes are in stock, RFID helps the store order the out-of-stock sizes while holding on to the two examples running low in stock, and give the customer a date in which the items will be available for pick up.
Smart Fitting Rooms
One sure way to improve the customer experience in an apparel setting is to equip the store with smart fitting rooms. These are dressing rooms outfitted with touch screen mirrors connected to an RFID reader and motion sensor that detects when customers enter a fitting room. The device also detects which items they shopper brought into the changing room by reading the RFID tags.
Smart fitting rooms improve the customer experience by offering many of the finer white glove services one would expect to encounter at a Beverly Hills boutique from a well-trained salesperson and customer service expert. Here are some of the many benefits:
Makes product recommendations
Shows different product combinations
Allows shoppers to check item availability
Populates niche categories of goods for browsing
Shows added information such as customer reviews, FAQs, and informative videos
Grants digitally supported purchase decisions
Article-Bring-Service
Ability to directly order or reserve products
Shows delivery options and allows shoppers to set up a delivery, or pick up at any store location
AI powered chatbot assistance (personal shopper)
Here, RFID technology has shortened the time it takes to select goods, try them on, make a decision, and make a purchase–a digital assistant that any savvy shopper would appreciate.
RFID Technology Improves the Customer Experience by Giving Shoppers Solution-Based Help
Whether you are buying a car, a sweater, or a toy for your nephew's birthday, every customer has a pain point, and they are seeking a solution to that problem; if a retail store presents the best solution to those needs, the customer will be delighted and will make a purchase. RFID technology can play a big role in moving the customer along the buyer's journey. For example, let's say a budget conscious individual needs a new wardrobe, but they want to stretch their dollar by choosing garments that can be worn in multiple seasons. RFID technology can sort products based on any criteria such as garment weight, thickness, color, materials, size and more. Rather than leading customers on epic quests or wild goose chases to find the right items, a store employee can use RFID to track and gather specific garments that meet the customer's needs. Nobody wants to waste time waiting around, or looking through unnecessary racks or bins only to come up empty handed. With the right RFID technology in place, retailers can delight customers by helping them locate and discover specific items thus elevating the customer experience.